The Big Bear mountain lake resort was once a sacred spot for local tribes of Native Americans and the mountain contains a large amount of natural quartz and crystals that enhance the healing energies. The healing retreat is close to the lake and forest, and being surrounded by the natural setting has a calming, restorative influence as well.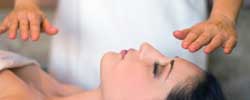 When the day-to-day pressures and high-stress hit the max, it is time to escape to a mountain healing retreat. Reiki therapist – Jin Shin Jyutsu practitioner, Dixie Madden zaps those negative vibes and clears those chakras so you leave transformed.
Reiki – Jin Shin Jyutsu® by Dixie Madden recently began offering healing retreats in the mountain resort area of Big Bear City, California.
The healing retreat offers healing and rejuvenation of the body, mind, and spirit using the ancient wisdom and timeless practices of Jin Shin Jyutsu®, Reiki & Healing Touch®. But it is the unique location that literally takes things to a whole new level.
Thrilled with the experience, previous visitors have already returned with their friends, family and pets. Since animal healing also happens to be one of Dixie's specialties, the retreat is animal friendly.
The quaint mountain resort accommodations are open to all individuals who need a respite or who are troubled by physical, mental or emotional life experiences, ranging from relationship issues to bereavement, or simply life's everyday struggles.
Of course, a simple escape also is a valid reason to treat yourself!
To schedule a mountain healing retreat, or learn more about Dixie Madden's services, please call today or purchase a gift card for a healing retreat now.